Welcome to the Avengers page of the
FSMR website
( 16-03-2015 )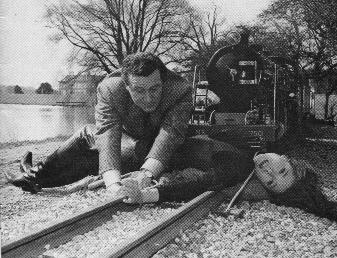 John Steed rescues Emma Peel, just in time!!
In April 1965, the Stapleford railway was used for part of an episode of "The Avengers", by ABC Television
The episode was called "The Gravediggers" and was one of the most memorable of the monochrome episodes
During the plot, Emma Peel played by Diana Rigg was tied to the track of the railway on the lakeside part of the bank up to the tunnel, by the deranged owner, who was to run her over!
John Steed, played by Patrick MacNee needless to say
rescues her just in time!
A cast plate was presented to the railway by ABC TV at the time, and is still placed at the spot during running days. We do get occasional requests to see the location, by Avengers fans.
<![if !vml]>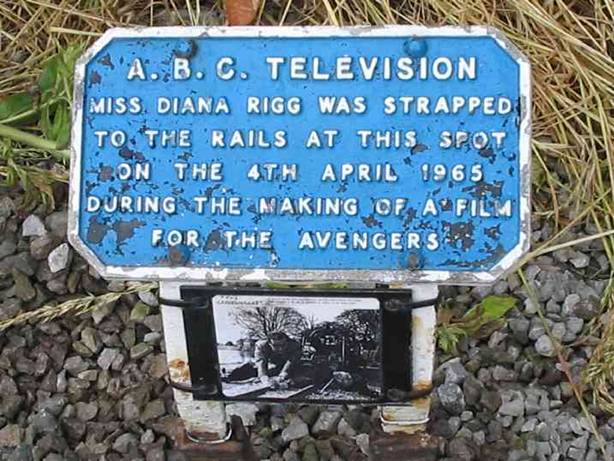 <![endif]>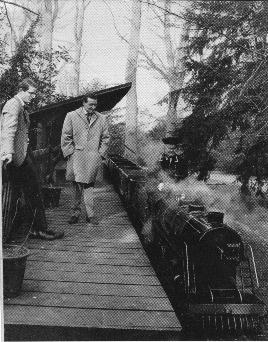 (left to right)
The late Lord John Gretton watches on as Patrick MacNee observes Ronnie Frazer studying the controls of "Blanche of Lancaster", prior to filming.
This engine now runs at the Trago Mills railway in Newton Abbot, Devon, still in her blue livery and markings, although her green twin sister engine, John H Gretton is still at the SMR
All rights to the series are now owned by Canal Plus, France.
An excellent website covering this episode and all other Avengers resources is found at