Welcome to the "Berkshire"
page of the FSMR site.
Page updated 12-11-06

<![if !vml]>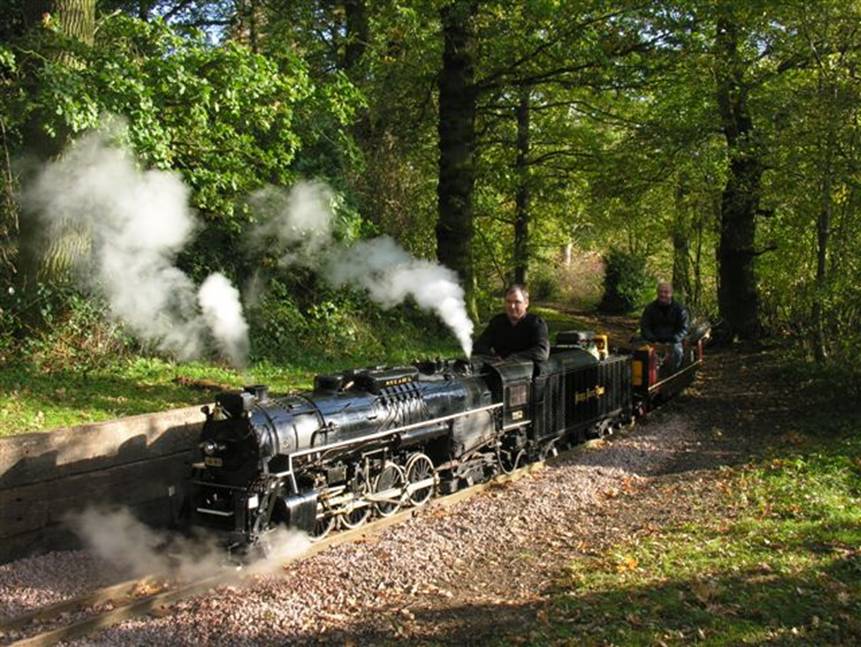 <![endif]>
Photo shows 752 on the works train Nov 2006 at badgers bend
 with the twin duplex front steam powered air compressors and steam turbine generator (by cab) running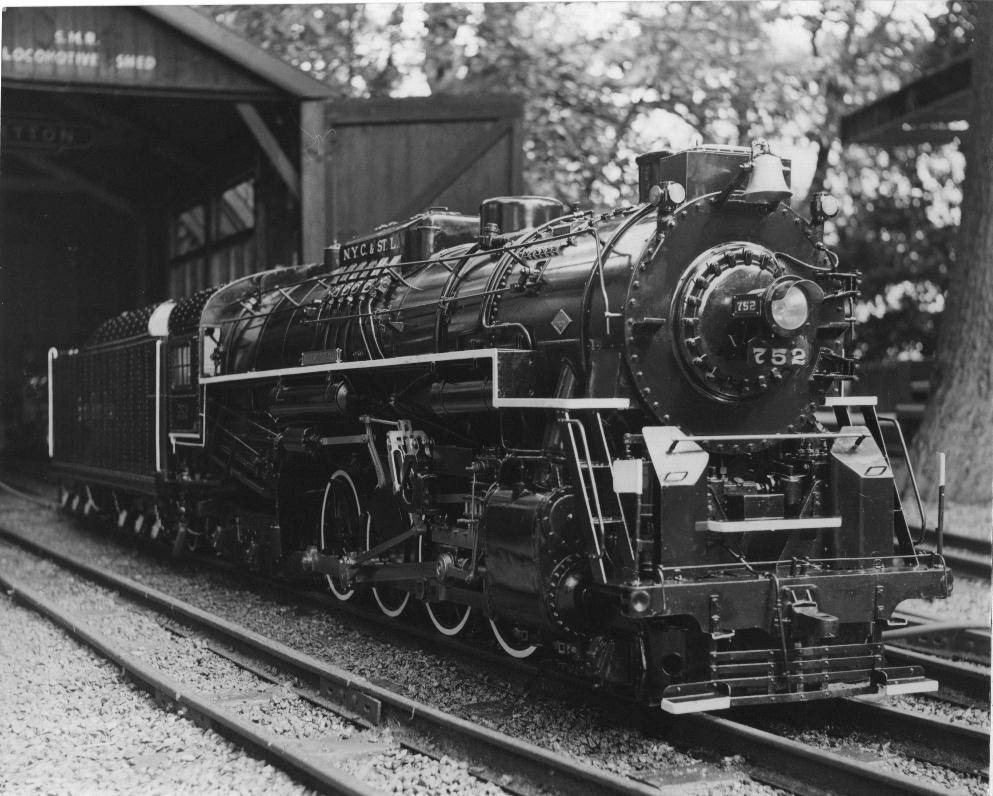 Steam Locomotive - 752 "Berkshire"
Photo shows newly built 752 at the original SMR locomotive shed
Designers: Richard Coleby and Neil Simkins
Built: Stapleford, 1970/71
Wheel arrangement                               2-8-4 Berkshire
Cylinders (2)                                        4 1/2" x 7 1/2"
Driving wheel diameter              1' 1"
Bogie wheel diameter
Trailing wheel diameter
Coupled wheelbase
Engine total
Engine and tender                                 18' 9"
Width over footplate                             2'
Chimney to rail lever                             3'
Weight                                                 2 tons
Top speed                                            12-15 mph in normal operation up a 1% gradient with a 17 ton trailing load
Features fitted as built:-
(1) Tipping grate and self-emptying ashpans
(2) Mechanised stoker, steam operated (2 cylinder)
(3) 2 electric turbines for headlights and water gauge lights
(4) All round mechanical lubrication (26 pumps)
(5) 3 valve poppet regulator on superheater header
(6) Feed water pump                             
(7) Heating coils on lubricators
(8) 2 twin cylinder air compressors
(9) Woodward drive system
(10) 2 "Buckeye" tender trucks (6 wheels)
(11) Air operated brakes throughout engine and tender. Auxiliary steam brakes on engine only
(12) Air operated fire hole door
(13) Air operated firing jets, for coal distribution in the firebox
(14) Air operated sanding equipment
752 took two years to build and was, it is believed, the first model locomotive to be fitted with an all welded steel boiler constructed to British Standard 2790, Class 1. The boiler was constructed by Michael Lugg. On completion the locomotive was exhibited at the 1972 Model Engineering Exhibition in London.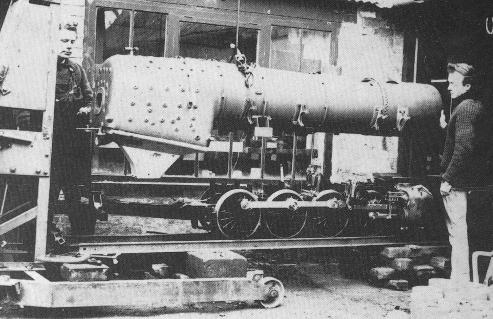 Photo shows 752 receiving its boiler during construction circa 1970 at the Stapleford works. Pictured are 2 of the engines builders, very young looking Neil Simkins and Richard Coleby (photo by R.Moore)
The Berkshire 700 super power series were express freight locos with rapid acceleration. Capable of maintaining speeds of up to 60 mph with 8,000 ton trains up to one mile in length. One of the most successful freight locos ever designed, they ran into the late 1950's over the New York Chicago and St Louis Railway, nicknamed the Nickel Plate Railway. A few are in operational preservation in the states.
Two excellent websites to visit regarding the NKP and Berkshires are Nickel Plate RR
and the Nickel Plate Historical Society
The Berkshire name refers to the wheel arrangement first used on locos hauling through the Berkshire hills of North East America.
Super Power refers to a class of locomotive fitted with a boiler capable of producing more steam than the cylinders can expand under any circumstances and for an indefinite time.
With its awesome power and looks, and atmospheric chime (not whistle!) she is always popular with the public. 752 sits at the end of the platform terminus, while her passengers disembark, the train will then be re-loaded, and a fresh engine(s) attached at the front. After departure, the "Berkshire" will follow the train out as far as the top curve points, and then run back into the triangle headshunt, allowing the loco to be turned the correct way, to back onto the next train. This operation, also adds considerable interest to the railway operations, all points and signals being under power control from the one signal box
Of course the highlight of the running days is when both the Berkshire and Niagara join forces for the 18 coach double header special!
(A logistical nightmare due to the trains length, so only run at the end of the day!)
For more info on full size Berkshire's, see the website on American steam locos