Welcome to the Curwen and Newbury "Warship" Diesel-Hydraulic

page of the

FSMR site.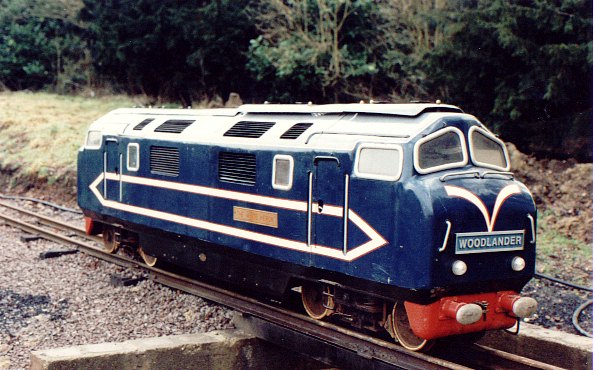 Diesel Locomotive: 'White Heron.'
Designer: David Curwen
Built: Devizes, 1962 by Curwen and Newbury and delivered new to the SMR
Wheel arrangement B-B
Length overall 12' 6"
Width 22"
Height 36"
Engine - original 1200 cc
- current Ford 1600 cc
Drive: Through universal couplings and totally enclosed gears to all 8 wheels
Starter Electric 12 volt
Electrics Standard 12 volt automotive battery/charging.
Brakes Hydraulic, operated by hand lever
Transmission Daimler fluid flywheel with single gear forward and reverse box.
Speed up to 12 mph, both directions
Maximum load 5 tons
Modifications carried out since construction: -
(1) Ferodo lined brake blocks
(2) Increase in weight by 2 cwt
(3) Hydraulic brake fitted to gear box to act as a clutch
(4) Electric cooling fan (thermostatically controlled) and electric engine bay scavenge fan.
(5) Air intake filter box fitted
(6) Ford Electronic ignition system.
(7) H.duty 12 volt alternator fitted to run cooling fans
The Diesel is the workhorse of the railway during most on site operations, despite being nearly 40 yrs old! Coupled with the works train shown above, she is used on various tasks including re-sleepering, ballast transport, mixed concrete delivery to remote locations, and (using the works train self powered generator set and welder), all track and lineside welding and grinding works.
During the tunnels re-construction, she hauled all the concrete blocks required, and most of the mortar and concrete, due to the difficult ground conditions around the site.
She is also used during public running days for stock movements, pilot duties, and recovery of the odd failed or stalled locomotives complete with their trains and passengers, such is her formidable power and traction.