Welcome to the Curwen "Green"
                      page of the FSMR site.
 Updated 03-01-07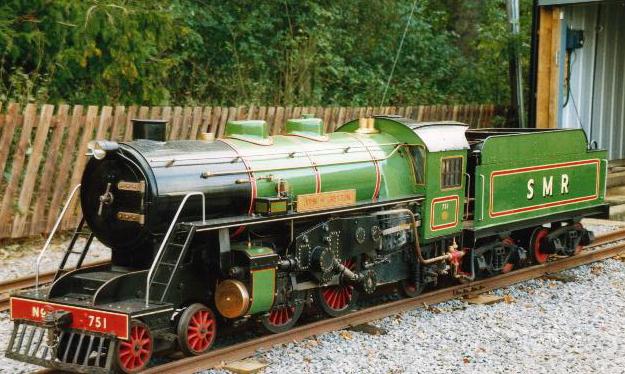 751 'John H Gretton' (formerly 'John of Gaunt')
Designer: David Curwen
Built: Marlborough, 1948
Rebuilt in 1969 by the S.M.R. and Coleby-Simkins
Further alterations in 1989 by Messrs Wickett, Kempster & Coleby with  new valve
gear, roller bearing side rods, rolling crosshead and balanced slide valves being added.

Also front-end modifications in 2000 resulting in a more efficient
blastpipe and chimney arrangement.
Wheel arrangement                             4-4-2 Atlantic
Cylinders (2)                                                4.125" x 4.875"
Driving wheel diameter                        1'1"
Bogie and trailing wheel diameters                 7 1/4"
Coupled wheelbase                                      1' 4 1/4"                                  
Engine total                                        7' 1 1/2"
Engine and tender                               12' 3 1/2"
Width over footplate                                    1' 10"
Chimney to rail level                                     2' 10 1/2"
Grate area                                          1.5 sq. ft.
Weight in working order (as built)                
Engine                                                         16 cwt
Tender                                                         4 cwt
Nice shot of the enclosed modified rotary valve gear, fitted during 751's commercial days at Stapleford to improve reliability
<![if !vml]>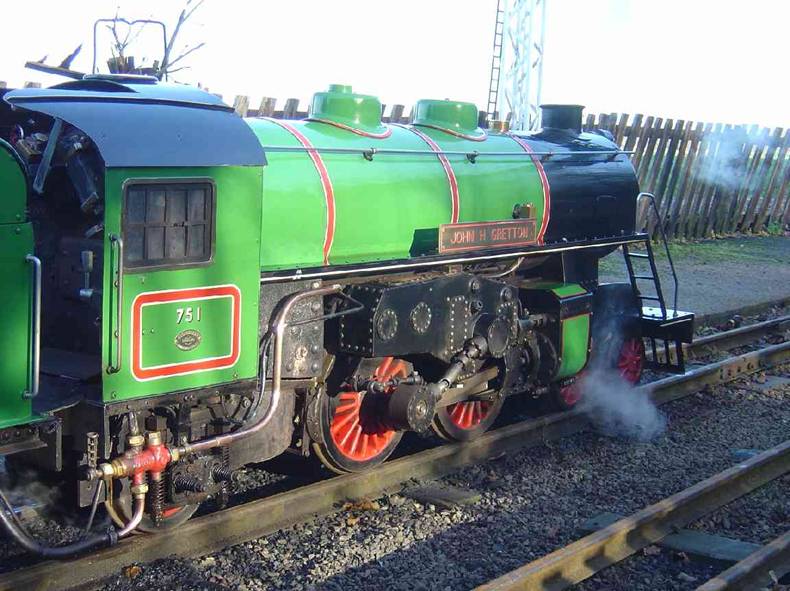 <![endif]>
Below, the late Lord John H Gretton brings 751 "John O Gaunt" into car park station in the late 70's
Following his untimely death, the locomotive was renamed in his memory after the FSMR restored the railway to public operation in summer 1995
<![if !vml]>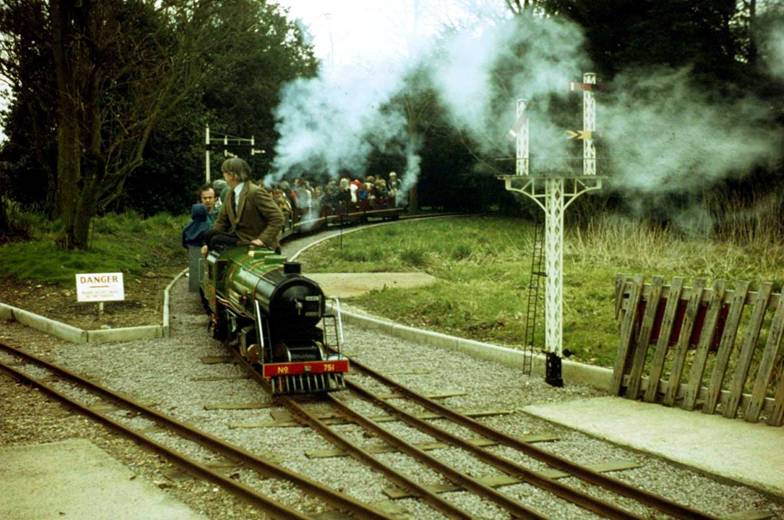 <![endif]>
Modifications carried out since construction : -
 (1) Larger steam pipes to cylinders(2) Larger exhaust and blast pipe (3) Widening of main boiler steam pipe from regulator
(4) Large poppet valve regulator  (5) Increase in weight by 3 cwt and improved engine balancing  (6) Frame strengthening
(7) Larger firebox with greater water space and improved drafting (8) Modified valve gear  (9) Steam pressure differential cylinder drain cocks
(10) Engine bogie side control  (11) Sprung buffers between engine and tender (12) New cab
(13) Enlarged brake blocks with Ferodo linings (14) Double lapped steam brake valve (Berkshire pattern)
(15) Lubricator fitted to brake cylinder  (16) Improved suspension  (17) Steam chest pressure gauge
The locomotive was supplied new to the Bognor Regis Miniature Railway, run by a Mr.S.R.Briggs. At that time 751 was numbered 2448, and named Canadian Chief (on the tender).It was put into store in 1950 when Mr Briggs gave up the concession to run the railway. The locomotives remained in storage until about 1956 when sold to Mr.P.Harding, a dealer in Mablethorpe, who then sold them on to Lord Gretton in 1957.
At Stapleford, 2448 was renumbered to 751 and renamed John of Gaunt. Apart from wanderings to the Wells and Walsingham Railway in Norfolk, the Suffolk Miniature Light Railway at Kessingland and display at the Midland Model Engineering Exhibition, held at Granby Halls, Leicester in October 1978, the locomotive has remained at Stapleford.
As originally built the locomotive was fitted with Baker valve gear but has since been fitted with modified 'rotary' type valve gear to improve performance.
In 1970 John of Gaunt received a new boiler, made by Gower of Bedford, and ran with this until the spare boiler was fitted in the Spring of 1995. On the 16th September 1995 she was renamed as John H.Gretton.
An "easier" locomotive to fire and drive, 751 is  used as the first training engine as non-passed FSMR members get their first experience of driving and firing a steam locomotive. It is also often the loco of choice on private party charters or members running days due to its ability and speed of preparation and disposal
Following the many improvements made over the years to this particular member of a well-known group of locomotives, we believe that it is now the most powerful example running of the Curwen Atlantics
As shown below, JHG is quite capable of hauling single-handed, our heavy 9-car trains up the Bank."
<![if !vml]>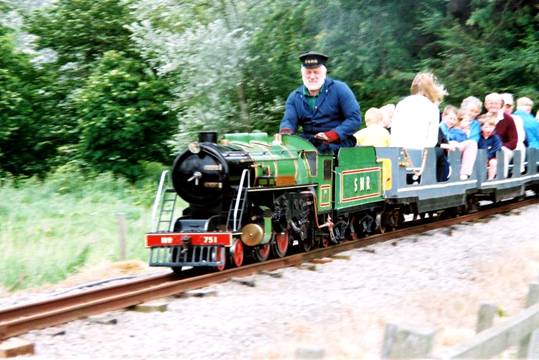 <![endif]>