Welcome to the

Jubilee

page of the

FSMR site.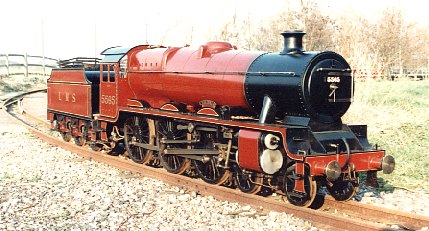 Steam Locomotive - LMS Jubilee 5565 'Victoria'
Builders: Coleby/Simkins
Built: 1974/75
Wheel arrangement 4-6-0
Cylinders (3)
Driving wheel diameter
Bogie wheel diameter
Coupled wheelbase
Engine total
Engine & tender
Width over footplate
Chimney to rail level
'Victoria' was originally started as a Greenley Royal Scot by an engineer living in Pentrich, Derbyshire, the tender and locomotive frames being completed by this owner. In 1971 the components were purchased by A. Allcock.
In 1973 'Victoria' changed hands again when the parts were purchased by M. Froggatt who suggested that he would like to see the locomotive built as a 'Jubilee'. This turned out to be a feasible proposition and after much modification, including the addition of the 3rd cylinder, the locomotive was completed and entered service in 1975.
The locomotive was subsequently purchased by John Gretton and, apart from a spell on the Suffolk Miniature Railway, and display at the Midlands Model Engineering Exhibition at Granby Halls, Leicester in October 1978, the locomotive has remained at Stapleford.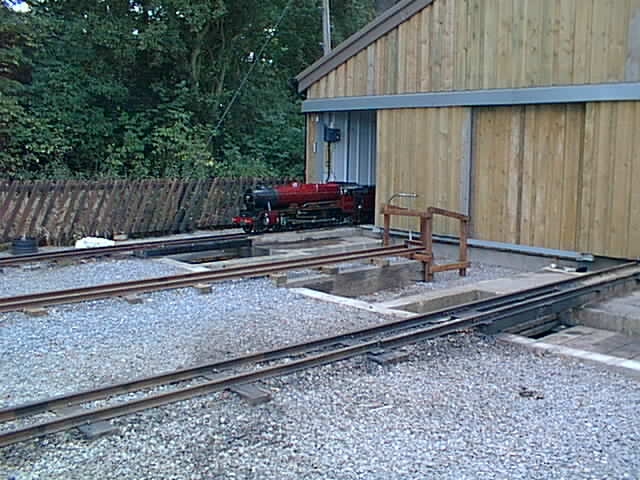 Gingerly poking her head out of the loco shed, the Jubilee looks lost!
Normally run on public day's double headed with the Saint, the Jubilee's 3 cylinders give her plenty of grunt and provide a unique sound working the bank.