Welcome to the Projects and developments page of the FSMR website
This page was last updated 19-08-2019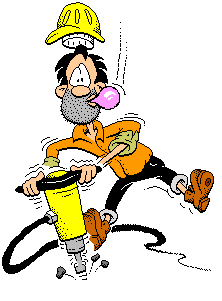 The FSMR members undertake a variety of projects on the railway.
None compare to the task in the early days back in 1995 of rebuilding the tunnel, but all can be challenging as well as interesting. A "project manager" usually takes charge, and members can just turn up and help on what suits them best, be it track, electrical, civil, or locomotive engineering. The FSMR have a selection of dumper trucks, and access to the farm estates JCB. And with mining engineers, architects, electrical and mechanical engineers as members, no task is too large in the preservation world!!!!
Just to put in perspective what massive engineering challenge we constantly face against nature on the railway
Take a look at this page showing the railway under water
Follow this link for detailed pages and pictures of flooding
Civils

During winter and spring 2006/2007, we undertook a major rebuild of the lakeside outfall spillway bridge. This had been identified as requiring major maintenance and so it has been decided to update the design at the same time. Abutments were renewed and a complete new wider and stronger steel superstructure was fabricated in our workshops and assembled at the lakeside. Work was completed prior to the 2007 summer events
There is a page created showing this work click here to view
Below is the new lake outfall spillway bridge in place March 2008
<![if !vml]>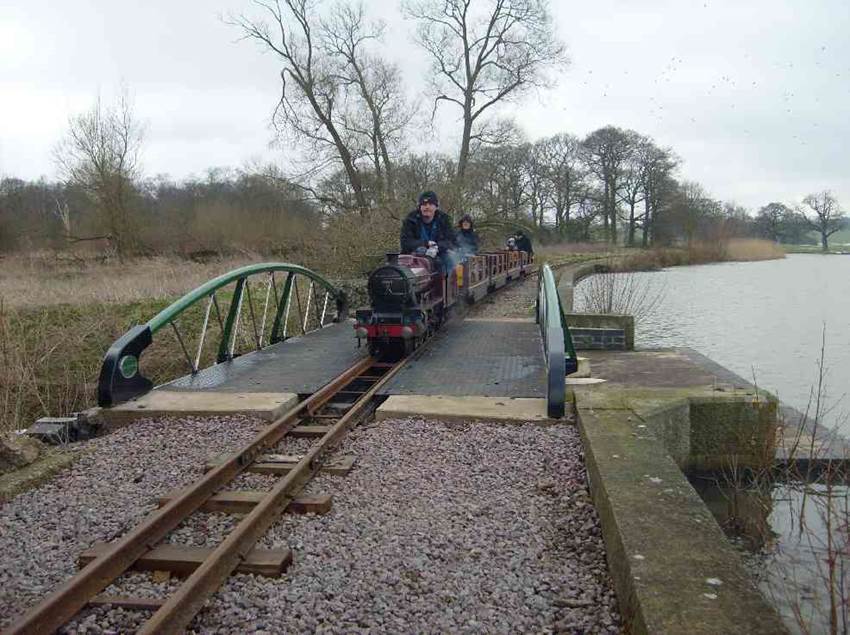 <![endif]>
There was also a project over  4 years which was officially completed and opened on 12th October 2008 to re-develop the whole terminus platform and station area to provide better catering and seating facilities and re roof the platform canopy as the old corrugated roofing is badly corroded at the edges. Architect plans were drawn and passed by the council planning.  Foundation construction was completed in 2006 by local building contractor, and handed over to the FSMR team (led by a member who is a skilled builder). The building was completed prior to opening in October 2008 although there was some internal fitting out completed for June 2009 when the station saw its first public passengers, but it had already been used as a refreshment room with the log stove fire put to good use cooking jacket potatoes! For the bonfire night events and during the Easter  private runnings. It has subsequently been a godsend for public running events acting as the railways refreshment and souvenir shop
The new station building being based on the Midland Railway Settle and Carlisle stations design.
Follow the link to the new station page
<![if !vml]>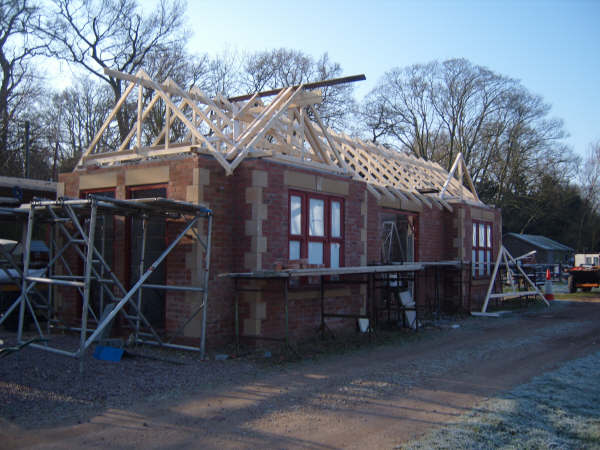 <![endif]>
Some work was also completed in spring 2010 on the platforms to replace sections of frost blown concrete, in preparation for the summer openings.
<![if !vml]>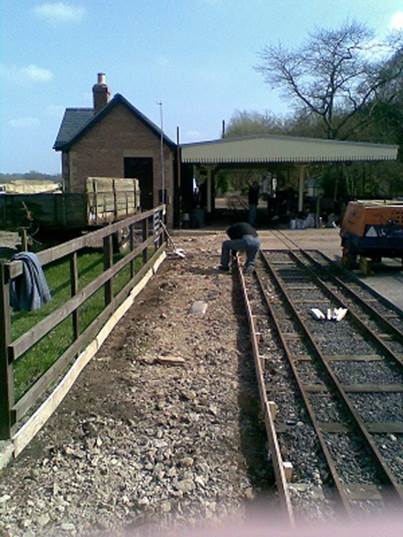 <![endif]>
<![if !vml]>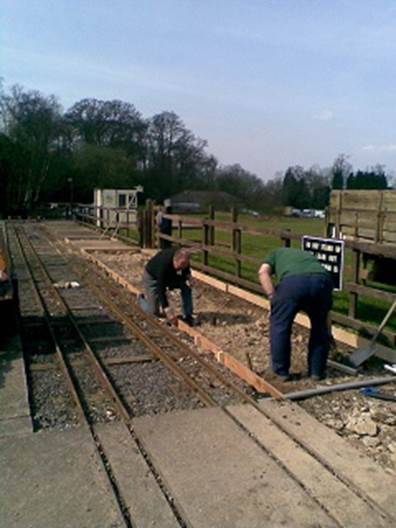 <![endif]>
S&T
Work started in Spring 2012 installing new signals and axle counters at lakeside which will give improved reliability and monitoring of the trains progress
Below are the new cables being laid along lakeside Easter 2012
<![if !vml]>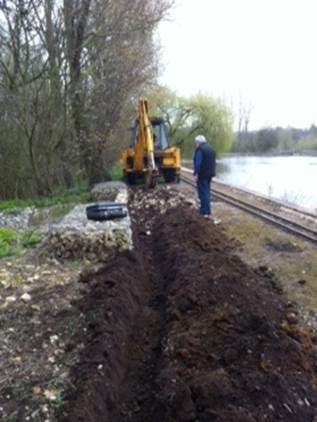 <![endif]>
This has been on going since with equipment panel upgrades also underway and new line side signals due to be incorporated at some point in 2015
Track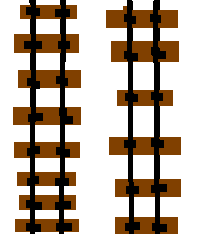 Ongoing re-sleepering of track continues, the original 1970's jarah sleepers showing their age, especially on the extension. Go to the picture gallery for pictures of the re-sleepering methods.
The back straight was re-ballasted and levelled over April 2012
We have started the process of lifting complete panels and digging out the bed with the FSMR tractor loader. The bed then receives a geo-tex membrane before new ballast is added and the panel is  replaced on new sleepers. The record is 3 panels  completed in one day. The oldest sections are being tackled first through the woods. We are also took the opportunity this spring to install an access crossing at badgers curve to allow heavy machinery access without damage to the track  e.g tractor mower and JCB .At the same time, 9 panels of original track were renewed through the wooded section.
Another record in autumn 2006 with 4 panels !! replaced over the weekend of 14th 15th October 2006 in the same area back to badgers bend completing this area. We also added a new sleeper retaining walls to the bank to prevent soil erosion contamination of the ballast.
And all this with the Berkshire providing the exotic motive power for the day in the diesels absence
Follow this link for detailed pages and pictures of the October 2006 track work
Below is the work completed looking, towards badgers bend, on bonfire weekend with the Berkshire providing the works train motive power in the diesels absence
<![if !vml]>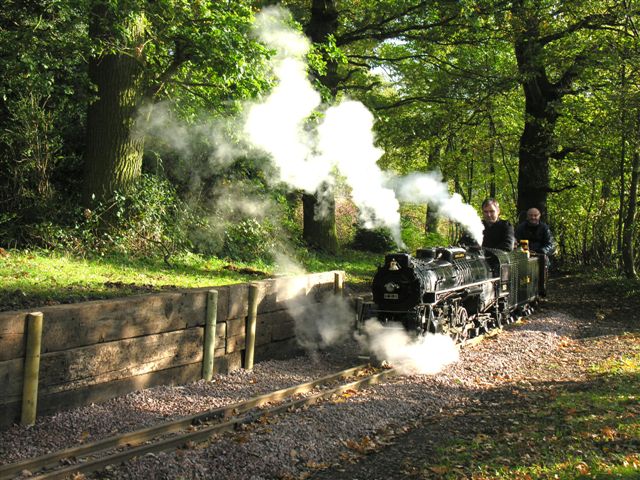 <![endif]>
Yet another record in Feb 2008 with 6 panels !! being replaced over the Saturday 16th on Chestnuts curve
Follow this link for detailed pages and pictures of the Feb and March 2008 track work
<![if !vml]>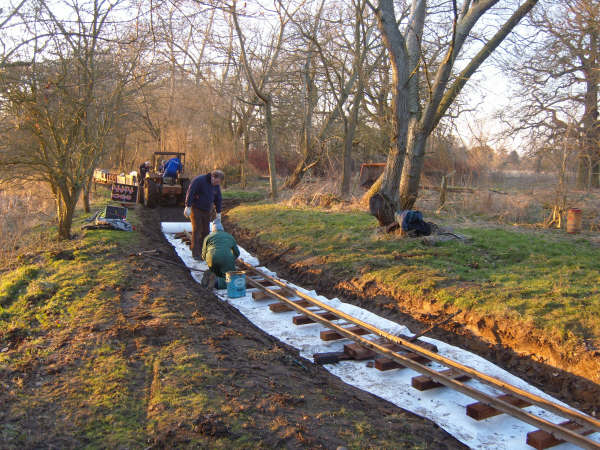 <![endif]>
See also the picture gallery for pictures of some more track work
All pway work is co-ordinated and any major renewal and ongoing sleeper replacement, with organised work parties on large jobs is all logged on a database as per full size!!
Locomotives

-5565 LMS Jubilee
This was failed on inspection of the boiler during the June 2009 event and work is underway on the boiler and firebox at our bolier engineers, while frames are in our worshop under heavy overhaul although it will be 2020 at least
 -2943 GWR Saint
This was withdrawn a few years ago but will be looked at once the jubilee is back and hopefully will return to steam again paired with the Jubilee at some point
751 Curwen Atlantic
Curwen Green Atlantic John H Gretton over the last few years has had a new boiler constructed locally and running gear totally overhauled and the new boiler is being fitted with new insulation and new cladding followed by repaint and ran in June 2019 and is available for August
 NKP 752 Berkshire Had major overhaul and new firebox in 2013-2015 and is available for the August 2019 event
Some archive pictures taken mid March 2013 of the Berkshire.
 With the boiler off, the frames have been cleaned in preparation for painting
<![if !vml]>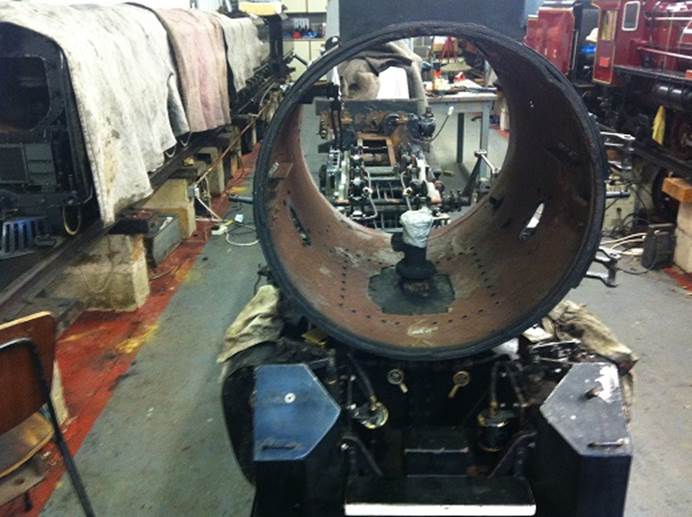 <![endif]>
<![if !vml]>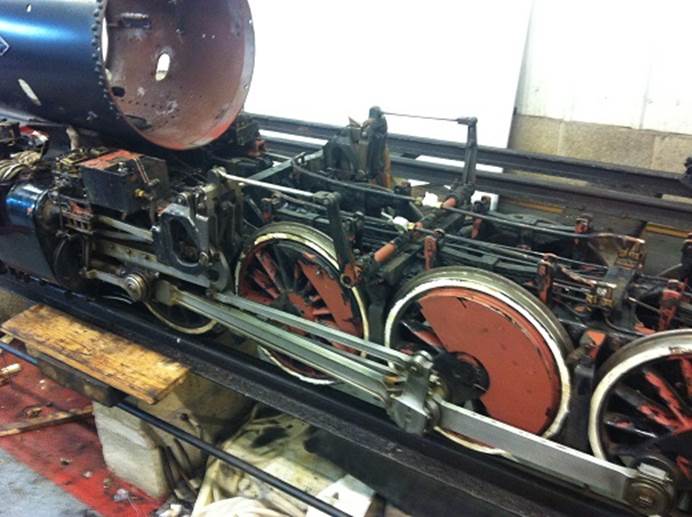 <![endif]>
<![if !vml]>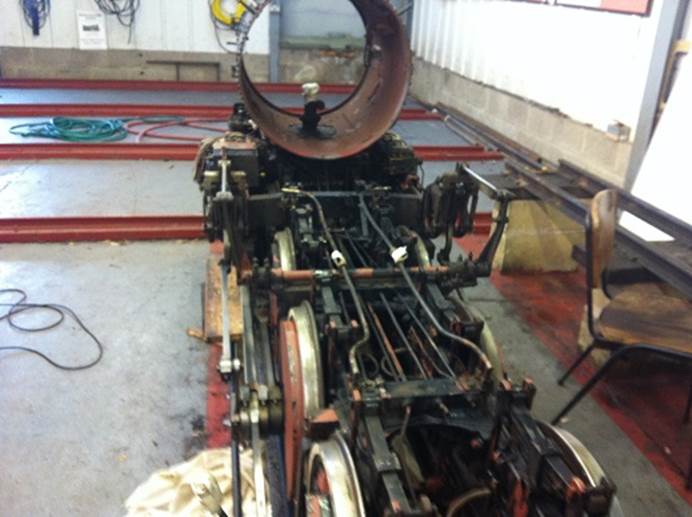 <![endif]>
NYC Niagara underwent a major 2 year heavy overhaul of boiler in 2017-18 including superheater tube element replacement but was completed for the summer 2018 and is available for August 2019
Warship DH Available for Pway work and events

Some FSMR members are also constructing their own 1/5th scale 10 1/4" gauge diesel or steam locos, these currently are:
Great Central Railway 11F Improved Director 505 'Ypres'
Work on the design started Mid 2005
Completed by end Autumn 2017 when it went on test on another line and then on show at the Midlands Model Engineering Exhibition

Tender completed
Frames, stretchers, footplates, splashers, valences, smokebox made. All cast parts cast. Cylinders, covers, valve chest all part machined and awaiting boring. Boiler design complete. Front bogie complete. Connecting and coupling rods part machined awaiting boring. Crank axle made awaiting assembly. Axle boxes and horns machined awaiting boring.

Length over buffers 3600mm
Height to chimney top 835mm
Width 540mm
Boiler 160 psi (superheated)
Cyclinders (2) 89 x 140mm
Piston valve inside Stephensons
Driving wheel 420mm dia
<![if !vml]>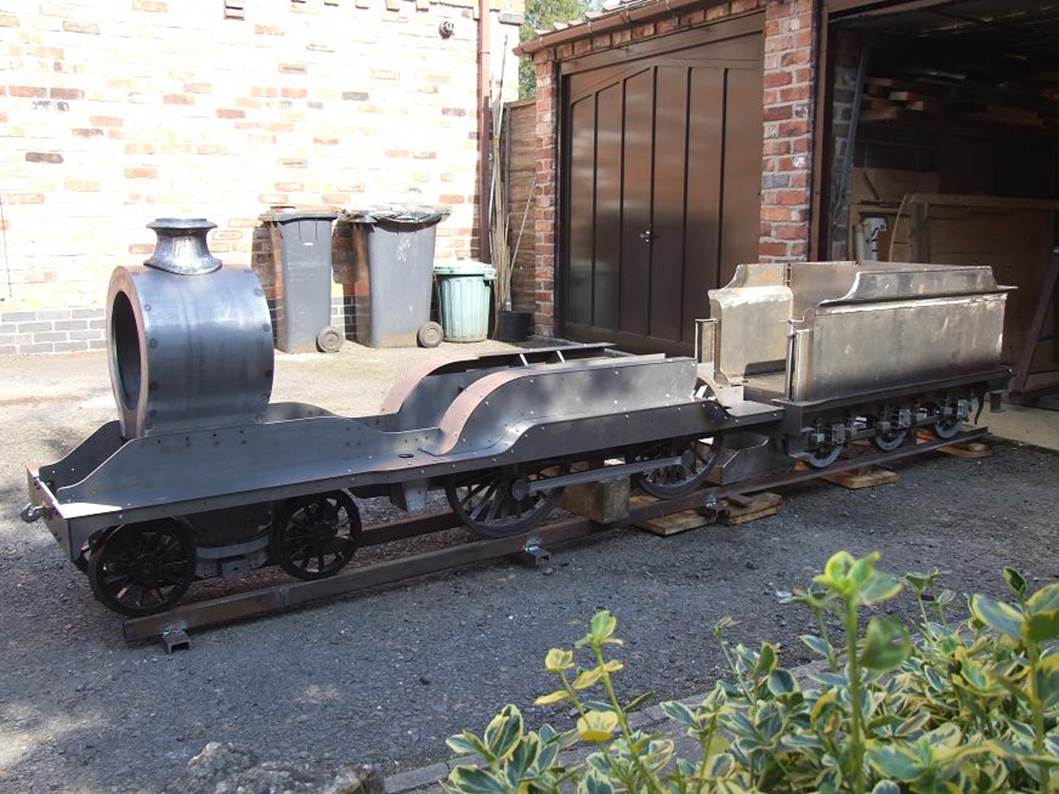 <![endif]>
And the loco construction progresses as shown November 2011 when the boiler shell was dropped on the frames to check the fit
<![if !vml]>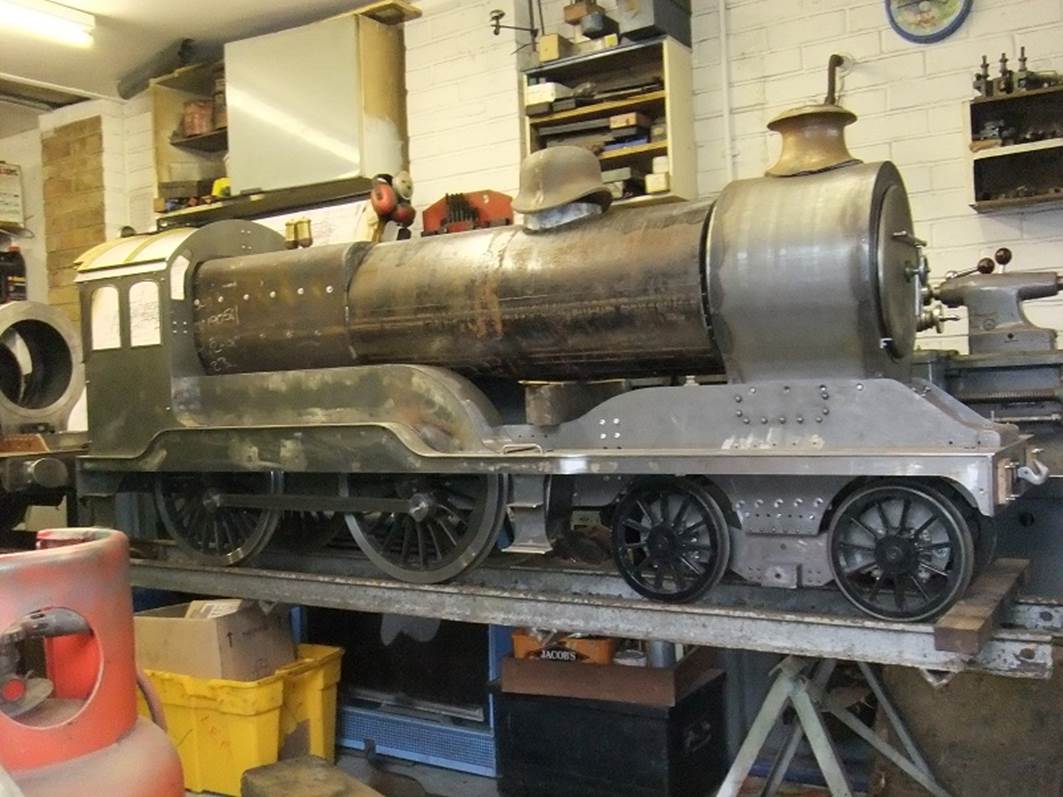 <![endif]>
And the loco construction progresses as shown September 2013 looking very much on the way to completion
<![if !vml]>
<![endif]>
November 2017 looks stunning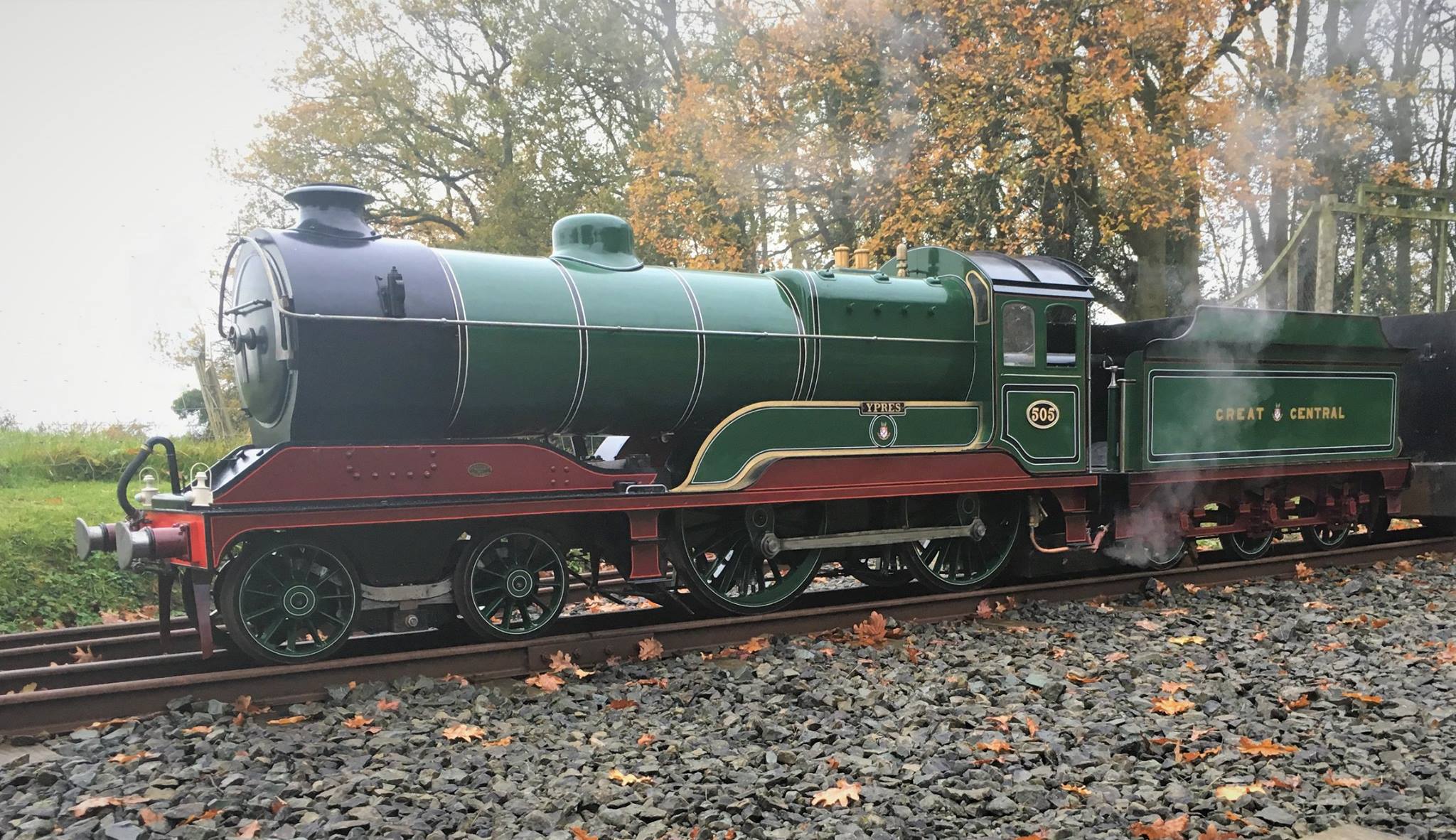 <![if !supportLineBreakNewLine]>
<![endif]>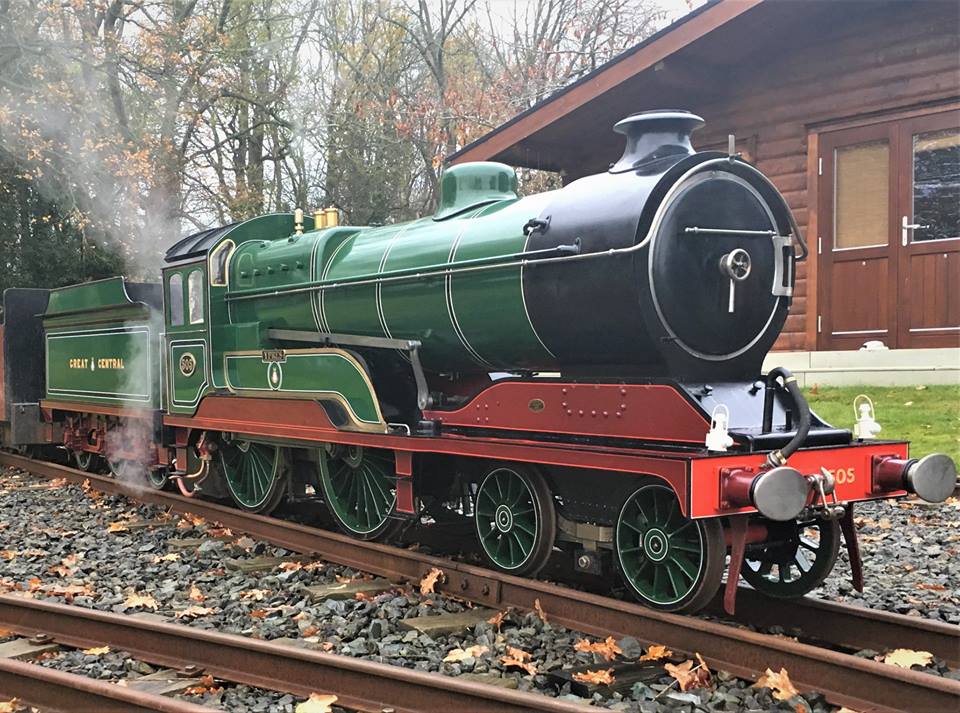 Replica of 1899 Midland railway Johnson 4-2-2 "Spinner"
The tender is built, and work progresses on the rest, no arrival date at Stapleford yet!
<![if !vml]><![endif]>